Product Description
Viscous Liquid Big Flowrate Fluid Dispensing Peristaltic Pump

SG600FC is a Industrial Dispensing Pump with max 12L/min flow rate. With YZ35-13 or YZ35 Large Flow Peristaltic Pump Head. Can install 2 kinds of silicone tube, 73# and 82# ( 3.3mm inner diameter ).
As a Dispensing Peristaltic Pump, it uses a high-precision stepping motor with precise operating speed and angle, combined with the interactive interface carefully designed by our electronic engineers for customers, so that customers can achieve reliable liquid quantitative transmission or filling through simple operating steps.
Also the long-range control is available through the DB15 interface of the drive speed control, start-stop control, direction control.
Because it can use the Peristaltic Pump Tubing with 3.3mm inner diameter, customers can use this pump filling some viscous liquid such as pure glycerin, ketchup and so on. But it is better more than 50ml for each bottle.
By the way, it is also widely used in industry because it is the High Flow Peristaltic Pump, as filling machine.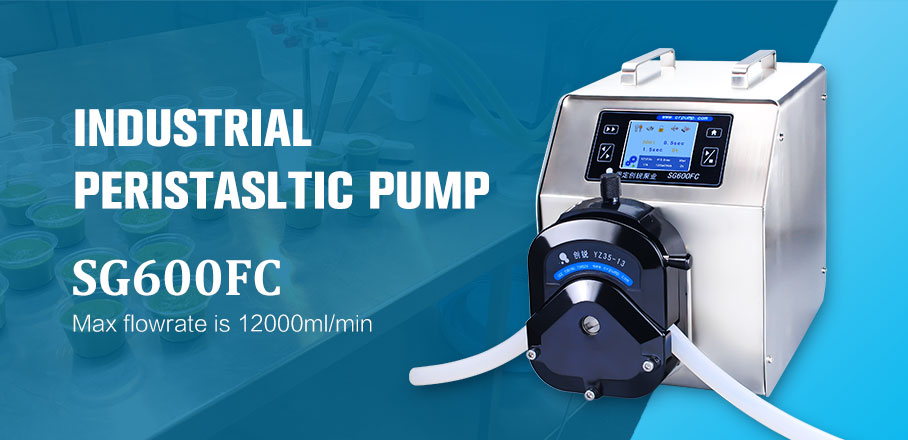 | | |
| --- | --- |
| 0.1Speed | 0.1-600rpm |
| Speed resolution | 0.1rpm |
| Flow rate | 1.3—12000ml/min |
| Display | LCD display |
| Control Method | Touch screen + keypad |
| Power supply | AC220V±10%(standard) or AC110V±10%(optional) |
| External control | Start & stop, direction control, speed control( 0-5v, 0-10v, 4-20mA optional ) |
| Communication interface | RS485 RS232 |

Features:


FC Intelligent dispensing peristaltic pumps on function is powerful:
·Storage function-user data storage function:(9 sets of filling data) . The original filling data can be quickly found by entering the storage interface with one key.
·External control function-Multiple mode selection: communication mode, analog mode,foot switch control.Provide customized services.
·Memory function-data will be stored in time after power off. When power supply is restored, the pump can remember the parameter Settings before power off, which is more safe and reliable.
·Calibration function-intelligent flow calibration: after setting the target flow, input the actual flow value,and the system will automatically carry out flow calibration to ensure the flow accuracy
·Full speed function-one button to control full speed operation, used for quick cleaning, filling and emptying tubes, etc
·Suckback function-By setting Suckback angle and Suckback speed to prevent liquid dripping and ensure fluid accuracy.
·lock screen function-lock screen design, error proof touch, application more secure.
·Display function-real-time animation of the operation interface shows the running state and working parameter.
·Touch-screen function-3.5-inch color LCD screen,( 59344638,English and Chinese optional) , touch-screen operation,intuitive and
intelligent.
·Whole housing design-stainless steel housing,sturdy and durable , multi-face seamless whole housing design, Long service life,